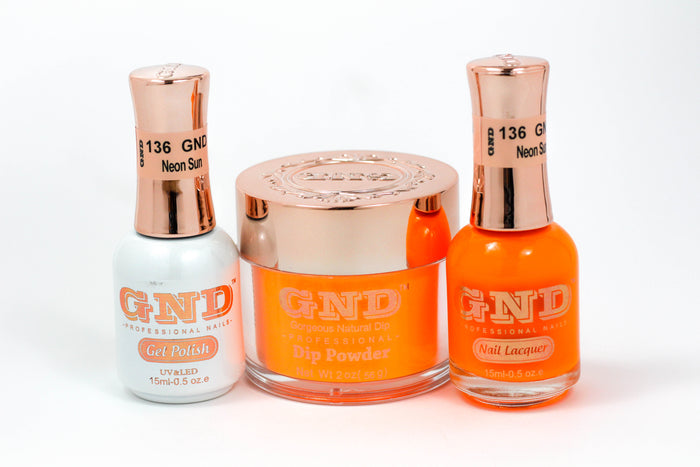 Get the complete GND color matching 3 in 1 set that includes Gel polish, Dip powder, and Nail lacquer.
GND Gel polish 100% soak-off can deliver more coverage and attractive glossy appearance to nail surface, covering any flaws that regular polish cannot, providing more long lasting and durable wear. This gel polish cures under LED light in 20 seconds or UV light in 2 minutes.
GND Nail lacquer is the orginal nail formula that protects the nail plates with style, perfect for any manicure or pedicure. Featuring vibrant color to compliment your skin and outfit, it's your go to polish if you enjoy updating your nails weekly.

GND Dip powder is one of the best things you can do for your nails - it's an inbetween of having fake nails and gel nails using our GND dip essential kit. Dip powder provides your nails durability to last longer, feel lightweight, and have an elegant appearance.

Size: Gel Polish & Nail Lacquer = 15ml-0.5oz.e, Dip Powder = 2 oz-56 g

Note:
Color shown on screen may slightly vary compared to actual color due to screen monitor and electronic devices. We do our best to accurately match digital color swatches to the actual color.
Returns Policy
Please refer to our Returns Policy page found on the footer menu
Shipping
Please refer to our Shipping Policy page found on the footer menu.